Home Control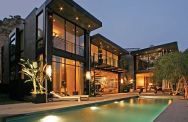 Not just for the rich and famous.
Imagine lighting that can be controlled from a touch screen or keypad, or even a handheld remote control, enabling you to create a different atmosphere to suit every occasion at the touch of a button. Lighting control can transform the inside of a home by creating distinct moods to complement the decor. A typical example of this is within a home cinema, controlling lighting from the comfort of your chair. The lighting control can integrated with the projector, projector screen, amplifier, BluRay and curtains which can all be controlled from a handheld remote control.
Reliable Wi-Fi and Networking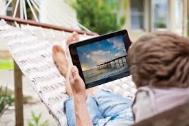 Solutions for all those low signals, ensure coverage indoor and outside.
Nowdays Wi-Fi is a critical service in the home and office, make sure your coverage is strong enough and free from any interference. We can test your existing install using specialized and offer a range of products to ensure all those hard to reach corners or rooms don't go without service.
Multi Room Audio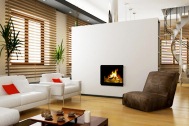 A new house isn't complete without it.
Now you have that great collection of music it's time to use it! Whether it is on the cloud, your iPod, or even CD or vinyl, we can provide a solution that will allow you to get music to every corner of your home. Maybe it is in the bathroom or out on the entertaining deck, or how about in the workshop? MRA - You'll wonder how you every got by without it.
Home Theatre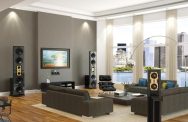 Enjoy better quality audio and video than the big theatres can give you.
As home cinema systems are becoming ever more popular and product technology advances, then the range of solutions has become increasingly more vast and in some instances, confusing to customers. Because we are not tied to any one manufacturer, we are free to design, specify and install a solution that complements your home and fulfils all your requirements. We are free to give impartial advice on an extensive range of products ensuring you get the very best quality solution.
Security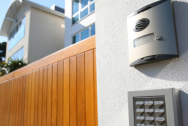 Peace of mind wherever you are in the world.
Active security systems and monitoring is becoming more commonplace with new installations. Your home can have the ability to notify you when an alarm is triggered. You can then log on and check the status of the system as well as view webcams. Digital video recorders allow you to record events for playback at a later time.
Distributed HD Video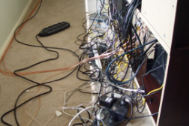 It doesn't have to look like this!
Once upon a time, running a cable from the aerial and looping it from a point in the lounge to the bedroom was considered to be "distribution". Now, with more TVs, High Definition and HDMI it's a different game. Not more complex, it's just a matter of making sure you have the right infrastructure in place. Share one Blu-ray player, satellite decoder or game console throughout the home. A mess like this is now avoidable.
Installations
New Builds.
Are you building a new house or even just thinking about it? Call us now, as this is the best opportunity to install and future proof your new house. Even just running cables that may not be used straight away will give you more options later. Once the Gib goes up, running new cables becomes difficult and messy. Wireless options are available but hard wiring is always the preferred option.
Renovating?
If you are renovating your whole house or even just one room, we have solutions that will suit you. Technology such as wireless, RF or Zigbee allow a great degree of flexibility. Systems can be expanded and added to room by room as time or money allows.
Retrofitting.
Like what you see but not building or renovating? Don't worry, as all these systems can be retrofitted into your existing home. Give us a call and we can discuss what is possible.
HDMI Cable Repair.
Has the end of your HDMI cable been damaged? Yes, they can be repaired. Replacing is not always an option. Using our specialized tools we can reterminate the end onto most HDMI cables. Especially handy if your cable is run inside a wall.